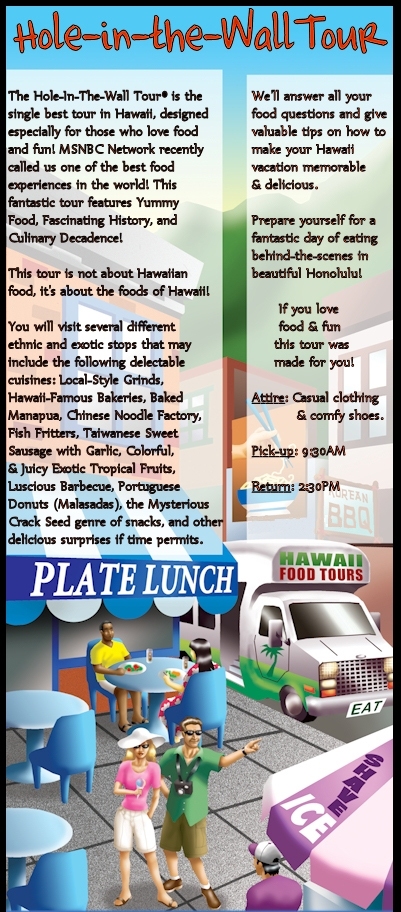 Hole-in-the-Wall Tour
Our Famous Hole-In-The-Wall Tour (9am-1PM; $139 per person *now Includes ALL your Food, Fun, Transportation & Taxes!) is the single best tour in Hawaii, rated #1 in the Food & Drink category on Trip Advisor! designed especially for those who love food and fun! MSNBC Network recently called us one of the best food experiences in the world! This fantastic tour features Yummy Food, Fascinating History, and Culinary Decadence! Bring a big appetite for this baby!
Our tours include Luxury Air-Conditioned Hotel Pickups in Waikiki in our Gorgeous MERCEDES tour van. TRAVEL IN STYLE WITH US… NOT WITH A HOT & SWEATY WALKING TOUR GIVEN BY SOME SECOND-RATE COMPANY. Experience the best and you'll know why we are Rated #1.
You will taste, touch and visit authentic locations offering food gems which contribute to Hawaii's delicious and diverse melting pot. The Hole-in-the-Wall Tour is like an entertaining, informative and delicious Honolulu City Tour.
You will enjoy several stops at Local, Ethnic and Exotic locations. You'll also see bustling Marketplaces and visit two of Hawaii's most famous Bakeries. This tour takes place all over Honolulu, definitely away from the touristy areas of Waikiki!
This special tour is not about traditional Hawaiian Food; rather, it's more about the Local-style comfort foods of Hawaii, which you'll see is a combination and fusion of Asian and local flavors. Oh, and to gild the lily just a bit more, the tour includes a very special 2-hour behind-the-scenes walking and tasting tour inside Honolulu's amazingly exotic Chinatown!
Your foods may include the following delectable cuisines: Local-Style Grinds, Hawaii-Famous Bakeries, the best Korean barbecued chicken in the world, juicy-sweet Hawaiian pineapple, Baked Manapua, a visit to a Chinese Noodle Factory, Dim Sum Treats, Sweet & Juicy Tropical Fruits, Luscious Hong Kong Barbecue, Portuguese Donuts (Malasadas), the Mysterious Crack Seed (a genre of snacks of Hawaii), and perhaps a fantastic cocktail!
The Famous Hole-In-The-Wall Tour is a Fun and Social food experience designed by Matthew Gray, one of Hawaii's most well-known food and wine experts. Matthew is a former Celebrity Chef, and was the Food Writer and Restaurant Reviewer for Hawaii's largest daily newspaper for several years.
We'll answer all your food questions and give you valuable tips on how to make your Hawaii vacation more memorable.
Prepare yourself for a fantastic day of eating behind-the-scenes in beautiful Honolulu.
If you love food and fun, this tour is definitely for you!
We pick-up throughout Waikiki, beginning at 9:00am (depending upon where you are staying), and get you back between 2 & 3PM.
For those of you who are staying outside of Waikiki, please plan to drive into town for pick up on the side of the Ala Moana Hotel, no later than 9:30am. You may need to give yourselves up to 90 minutes drive time to get to this pickup location by 9:30am, so please factor this into your day
*** Special Note for VEGETARIANS, VEGANS & GLUTEN-FREE Guests: This tour is designed to showcase the Local-style foods of Hawaii and is not an a la carte type of setting, so please keep this in mind if you are a VEGETARIAN, VEGAN or GLUTEN-FREE person and decide to take our tour.
If you want to experience the most delicious tours in Hawaii, now is the time to reserve yourself on Hawaii Food Tours!
Also Available, another great tour of ours….