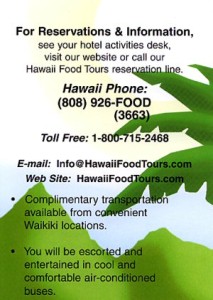 All tour prices subject to 4.712% Hawaii State Tax.
All confirmed reservations are considered final.
Our Refund Policy is Full refund if cancelled at least
ONE WEEK
prior to scheduled tour.
Cancellations that occur within one week of tour will be charged 100% of tour cost without refund. All times are approximate.
We reserve the right to change tour prices without advance notice.
Gourmet Adventures INC and Hawaii Food Tours are happy to serve you. Tasty Tours for the Hungry Traveler…
Hawaii Food Tours Home
Call 808.926.FOOD {3663}
or
E-Mail Hawaii Food Tours